Student-Athlete Handbook
St. Francis Athletics is committed to the total education of young women by providing a comprehensive, fair and equitable program for the school community in a caring, supportive environment. The athletic program strives to enrich the mental, physical and moral development of all students by integrating athletics in the school's education program. The athletic program strives for excellence with these primary goals as our focus. Championships, individual recognition and the ability to compete are desirable outgrowths of an educationally sound sports program but are secondary to the primary objectives of the athletic program.
St. Francis High School does not recruit students for its athletic program, nor does it offer athletic scholarships to students. All athletes will adhere to the general attendance, conduct, academic standards, and Christian Service hour requirements in order to remain in good standing for their specific team.
Eligibility Rules and Regulations
Scholastic Eligibility, Transfer, Athletics Eligibility Committee, Preseason Student and Parent Meetings, Attendance Requirements
Scholastic Eligibility
Good academic standing is required for membership on a team. Scholastic eligibility standards will be enforced per CIF Sac-Joaquin Section Bylaw 205. All students entering St. Francis High School from eighth grade will be automatically be placed on probationary status in their first enrolled semester to insure compliance with Bylaw 205.A. Reports cards will be checked prior to the start of the season and at each quarter grading period. Students are considered ineligible if the following standards are not met:
The student is currently enrolled and passing at least 20 semester credits of work.
A minimum grade point average of 2.0 on the most recent report card
No F's
No more than one D
No I's (incompletes)
Fulfill Christian Service hour requirements
A student can become eligible if the above standards are met on the date of the next quarter report card.
Transfer Eligibility
Transfer students may try-out and practice but may not compete in any interscholastic competitions (i.e. games, scrimmages, meets, matches, etc.) until officially cleared to do so by the CIF Sac-Joaquin Section office. Transfers and their families are advised to submit the Parent Certification Form to the St. Francis Athletic Director as soon as possible to begin the clearance process. That Parent Certification Form and futher information regarding CIF and section transfer rules can be found at the following link: http://www.cifsjs.org/coaches_and_administrators/transfer_eligibility
Athletics Eligibility Committee
An eligibility committee comprised of the Assistant Principal(s), the Athletic Director, and the appropriate Guidance Counselor and/or the Director of Guidance may review cases in which a student meets the minimum academic eligibility requirements set forth by the CIF Sac-Joaquin Section but fails to meet more stringent St. Francis High School requirements. Reinstatement of a student-athlete's academic eligibility may occur should the committee agree that a circumstance or circumstances beyond the control of the student significantly contributed to the failure of the student to meet the St. Francis standard(s). In such a case, the committee may impose conditions to the reinstatement of the student-athlete's eligibility.
Preseason Student and Parent Meetings
St. Francis High School requires that all athletic programs hold a mandatory student and parent meeting (can be together or separate) as soon as possible after the team has been selected and prior to the first scheduled contest. The Head Coach with the assistance of an athletic department administrator, is required to review with students and parents the following information:
Clearly state both the mission and philosophy of the St. Francis Athletic Department
Team expectations and policies
Review scholastic eligibility standards
Conflict resolution protocol
Distribute parent permission slips with season schedule to cover all scheduled events
Attendance Requirements for School Related Events
Any student who misses one half of her scheduled classes on the day she plans to participate in an after school related event, including athletics, arts, or dances, may not participate in that event without prior permission from the Dean.
Dispute/Conflict Resolution Process
When conflict between school authority and an individual student and her family occurs, it is important that the following process be adhered to so that the rights of all are ensured. All parties involved in a dispute are expected to manifest good faith in their efforts to resolve disputes by maintaining an atmosphere of mutual understanding, confidentiality, and Christian charity. Every effort should be made between differing parties, through open and honest discussion at the onset, to resolve the dispute. In each case the parties need to meet to provide the opportunity to state the issue(s) clearly and begin work on solutions. The parties are empowered by their participation in the process to affect the outcome. In every case, the parties should attempt to resolve their differences at the level at which the dispute has taken place and before entering this process. For example, a dispute with a teacher must involve an attempt to resolve the difference with the teacher before beginning this process, and before contacting the principal. An attempt should be made by the parties involved, i.e., student/teacher, student/coach, or student/administrator to solve differences of opinion or conflict at that level. Appeals to higher authorities will not be considered until this attempt at resolution has been completed.
Appeals occur in the following order:
Teacher/Coach
Department Chair/Athletic Director
Assistant Principal
Principal (The final appeal at the school level is the principal.)
Step One: In the event that the situation cannot be resolved to the mutual satisfaction of either party through open and honest discussion, the dispute shall be presented within ten (10) calendar days of the incident that caused the dispute to the person most directly responsible for the matter involved in the dispute. For example, a parent complaint regarding a teacher's homework policy should be taken directly by the parent to the teacher for resolution.
Step Two: Disputes concerning school policy or unresolved disputes concerning school personnel shall be referred within ten (10) calendar days of the incident that caused the dispute, or within ten (10) calendar days of the presentation described in Step One above to the employees immediate supervisor for his or her review and decision. If the dispute is concerning an employee, the supervisor shall advise the employee of the nature of the complaint. The employee shall be given ample opportunity for explanation, comment, and presentation of facts as the employee sees them. The supervisor shall conclude his/her review of the dispute and render his/her decision within ten (10) calendar days of the referral described in this Step.
Step Three: If the dispute cannot be resolved in Step Two, the complaining party within ten (10) calendar days of the supervisor's decision in Step Two may present the dispute to the principal for her review and decision. The principal shall conclude his or her review of the dispute and render his decision within ten (10) calendar days of the referral to him or her described in this Step.. Step Four: If the dispute cannot be resolved in Step Three, the complaining party within ten (10) calendar days of the Principal's decision in Step Three may present the dispute to the president for his or her review and decision. The president shall conclude his or her review of the dispute and render his decision within ten (10) calendar days of the referral to him or her described in this Step.
Diocesan Review: If the dispute cannot be resolved at Step Three, any party to the dispute, within ten (10) calendar days of the president's decision at Step Four, may petition the appropriate Diocesan office in writing for his/her review of the dispute. The Superintendent, at his/her sole discretion, may decide to review or not to review the dispute in question. If the Diocese chooses to review the dispute, he/she shall render an advisory recommendation to the president in writing within ten (10) calendar days of receiving the written petition.
Sportsmanship – Negative Commentary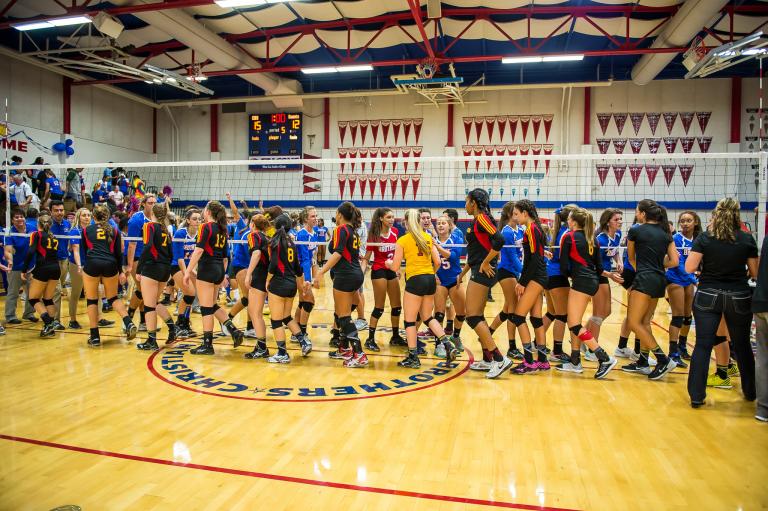 St. Francis High School discourages and prohibits negative commentary towards officials and/or opponents. Disciplinary action will be taken if student-athletes are found to be in violation of this policy.
Section Code of Conduct
CIF Sac-Joaquin Section Sportsmanship Resolution-Code of Ethics
It is the duty of all concerned with high school athletics:
To emphasize the proper ideals of sportsmanship, ethical conduct, and fair play.
To eliminate all possibilities which tend to destroy the best values of the game.
To stress the values derived from playing the game fairly.
To show cordial courtesy to visiting teams and officials.
To establish a happy relationship between visitors and hosts.
To respect the integrity and judgment of sports officials.
To achieve a thorough understanding and acceptance of rules of the game and the standards of eligibility.
To encourage leadership, use of initiative, and good judgment by the player on a team.
To recognize that the purpose of athletics is to promote the physical, mental, moral, social, and emotional well being of the individual players.
To remember that an athletic contest is only a game- not a matter of life and death for the player, coach, school, officials, fan, community, state or nation.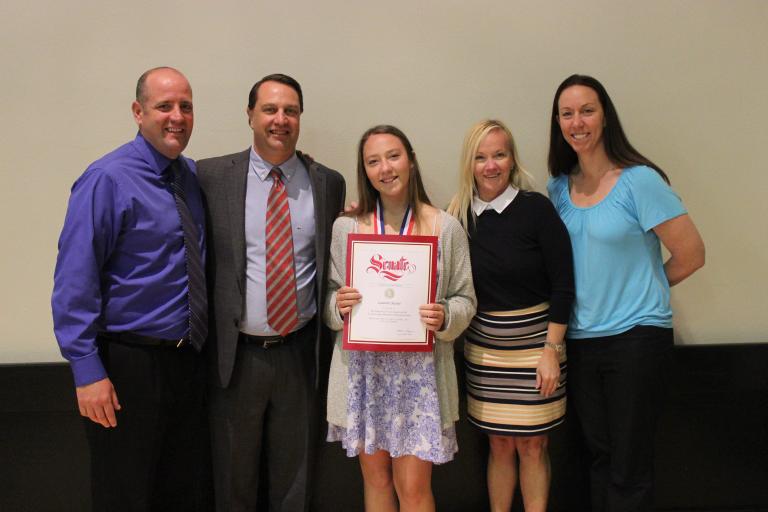 Commitment of Athletes
All student athletes at SFHS are expected to uphold the highest standards of conduct toward teammates, officials, coaches, and opponents. Failure to abide by these expectations may lead to suspension or permanent dismissal from the team. Student athletes are expected to attend practices and games during a given season, including playoffs. Unexcused absences from practices and games may result in suspension or possible dismissal from the team. Coaches of each sport will clearly state their policies at the beginning of each season of sport.
Contract Physical Education
Students participating in any level of a St. Francis High School athletic team will be exempt from taking Physical Education in the semester during which their sport competes. Fall semester Contract P. E. is offered for Cross Country, Golf, Tennis, Water Polo, and Volleyball. Spring semester Contract P. E. is offered for Basketball, Soccer, Softball, Swimming and Diving, Lacrosse and Track.Contract P.E. Agreement
Students participating in athletic programs will be exempt from taking Physical Education in the semester during which their sport competes. Contract Physical Education is offered for the following sports: Cross Country, Golf, Tennis, Volleyball, Water Polo, Basketball, Lacrosse, Soccer, Softball, Swimming, Diving and Track & Field.
The Contract P.E. Guidelines are as follows:
Academic Eligibility: League and Section rules require that each student must have a grade point average of 2.0 or above in the most recent grade reporting period. St. Francis also requires that a student cannot have more than one D or any F's on their report card.
Each student who meets the academic requirements, turns in a completed St. Francis physical form and is a member in "Good Standing" on one of the school teams (Varsity, JV, Frosh Level) will be in Contract P.E.
Each freshman and (any returning students) who hasn't participated at St. Francis in the sport the previous year will be registered in a regular P.E. class until she is accepted on a team and the coach submits a roster to the Athletic Director.
Each student must maintain "Good Standing" on the team for the entire season including playoffs in order to receive a Contract P.E. grade and 5 credits.
Coaches will submit grades to the Athletic Director before the end of each quarter. Attendance is required and can affect the grade.
A student is excused from attending the regularly scheduled P.E. class while on Contract P.E. If the student finishes the entire season and remains in "Good Standing", she will be excused from any remaining P.E. class for the semester.
NOTE: Physical Education is a requirement for graduation. Only students who have participated on the team the previous year and fully completed their obligations may be recommended for that sport by the coach. A student who quits a team or chooses not to try out will need to make up the credit another semester, unless she is a senior. A student who is cut from a team must go into a P.E. class.
A senior who still needs to earn P.E. credits and is on a Spring sport must complete the season entirely. If she gets cut from a team or quits within the first two weeks of the semester she must join a St. Francis non cut sport or will be placed in cardio or rec-fitness. If she quits after the first two weeks of the semester she will be placed in a cardio or rec-fitness class with a grade reduction commensurate with the amount of class time missed.
Each student-athlete must maintain good standing on the team for the duration of the season.
Physical
A St. Francis High School physical form for the corresponding school year must be on file with the Athletic Director before conditioning and/or team tryouts begin. Students who do not have a completed current St. Francis High School physical form on file with the Athletic Director will be banned from participating and placed in Physical Education.
Return to Participation Policy
Students must provide written consent from a physician prior to returning to play following an injury that required a visit to the doctor/hospital. CIF regulations requires a mandatory MINIMUM 7 day return to play protocol for a student athlete diagnosed with a concussion or head injury. The return to play protocol begin on the day of diagnosis NOT on the date of injury.
Bylaw 524 Agreement for Student-Athlete and Parent/Guardian
Regarding the Use of Steroids
Due to the increase of steroid use by high school athletes, the California Interscholastic Federation adopted a new requirement under Bylaw 524. As a condition of membership in the California Interscholastic Federation (CIF) St. Francis High School has adopted the following policy prohibiting the use and abuse of androgenic/anabolic steroids as specified below. CIF Bylaw 524 requires that all participating students and their parents/guardians sign the agreement.
By signing the St. Francis High School Student/Parent Handbook agreement form we agree that the student shall not use androgenic/anabolic steroids or any dietary supplement banned by the U.S. Anti-Doping Agency as well as the substance synephrine, without a written prescription of a fully licensed health care practitioner to treat a medical condition.
We recognize that under the CIF Bylaw 200.D the student may be subject to penalties, including ineligibility for any CIF competition, if the student and his/her parent/guardian provides false or fraudulent information to the CIF.
We also understand that the St. Francis High School policy regarding "Substance Abuse" will be enforced for any violations of these rules.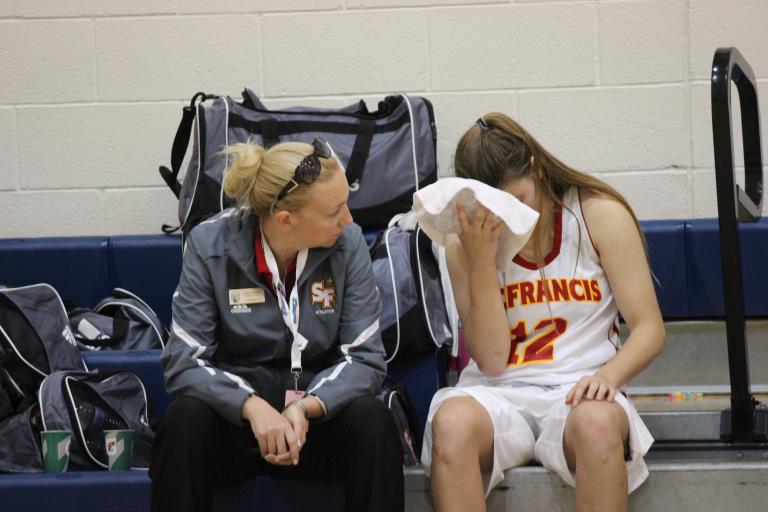 Concussion Information for Parents, Student-Athlete and General Students
Athletic concussion protocols generally apply to the student population as a whole. .St. Francis High School follows the dictates of CIF and the most recent laws (AB2127) for the safety of your student. A concussion is a brain injury and all brain injuries are serious. They are caused by a bump, blow, or jolt to the head, or by a blow to another part of the body with the force transmitted to the head. They can range from mild to severe and can disrupt the way the brain normally works. Even though most concussions are mild, all concussions are potentially serious and may result in complications including prolonged brain damage and death if not recognized and managed properly. In other words, even a "ding" or a bump on the head can be serious. You can't see a concussion and most sports concussions occur without loss of consciousness. Signs and symptoms of concussion may show up right after the injury or can take hours or days to fully appear. If your child reports any symptoms of concussion, or if you notice the symptoms or signs of concussion yourself, seek medical attention right away. Students who suffer a concussion may be placed on a Concussion Care Plan (CCP) through the Guidance Department, in order to facilitate necessary academic modifications and accommodations. CCPs are reviewed an updated in coordination with the student's physician.
Symptoms may include one or more of the following:
Headaches
Pressure in head"
Nausea or vomiting
Neck pain
Balance problems or dizziness
Blurred, double, or fuzzy vision
Sensitivity to light or noise
Feeling sluggish or slowed down
Feeling foggy or groggy
Drowsiness
Change in sleep patterns
Amnesia
"Don't feel right"
Fatigue or low energy
Sadness
Nervousness or anxiety
Irritability
More emotional
Confusion
Concentration or memory problems (forgetting game plays)
Repeating the same question/comment
Signs observed by other include:
Appears dazed
Vacant facial expression
Confused about assignment/ Forgets plays
Is unsure of game, score, or opponent
Moves clumsily or displays in coordination
Answers questions slowly
Slurred speech
Shows behavior or personality changes
Can't recall events prior to or after hit
Seizures or convulsions
Any change in typical behavior or personality
Loses consciousness
What Can Happen If My Child Keeps On Playing With A Concussion Or Returns Too Soon?
Students with the signs and symptoms of concussion should be removed from play immediately. Continuing to play with the signs and symptoms of a concussion leaves the young athlete especially vulnerable to greater injury. There is an increased risk of significant damage from a concussion for a period of time after that concussion occurs, particularly if the student suffers another concussion before completely recovering from the first one. This can lead to prolonged recovery, or even to severe brain swelling (second impact syndrome) with devastating and even fatal consequences. It is well known that adolescent or teenage student will often under report symptoms of injuries. And concussions are no different. As a result, education of administrators, coaches, parents and students is the key for students safety.
If You Think Your Child Has Suffered A Concussion
Any student even suspected of suffering a concussion should be removed from the game or practice(or class) immediately. No student may return to activity after an apparent head injury or concussion, regardless of how mild it seems or how quickly symptoms clear, without medical clearance. Close observation of the student should continue for several hours. The new CIF Bylaw 313 now requires implementation of long and well-established return to play concussion guidelines that have been recommended for several years:
"A student who is suspected of sustaining a concussion or head injury in a practice or game shall be removed from competition at that time and for the remainder of the day."
and "A student who has been removed may not return to play until the athlete is evaluated by a licensed heath care provider trained in the evaluation and management of concussion and received written clearance to return to play from that health care provider".
You should also inform your child's coach if you think that your child may have a concussion Remember it's better to miss one game than miss the whole season. And when in doubt, the student sits out.
For current and up-to-date information on concussions see: http://www.cdc.gov/ConcussionInYouthSports/
Adapted from the CDC and the 3rd International Conference on Concussion in Sport
The consent form for Impact concussion testing will be given to athletes at the beginning of each season they are to be tested
Misc. Information
Uniform, Equipment, Evaluations and Financial Responsibility
Student-Athletes are financially responsible for all uniforms and equipment loaned to them. Failure to return items constitutes financial obligation; lost items must be replaced or paid for at replacement cost. Uniforms and equipment should be returned in the same condition as they were received. Uniforms should be cleaned and washed before being returned. No clearance cards or diplomas will be issued and Net-classroom grade reports will be blocked until coaches' evaluations and all equipment and/or uniforms are returned and/or paid for by the student-athlete. Students who leave a team prior to the end of the season must turn in their equipment and uniform within one week.
Participation on Non-School Teams and use of Non-School Coaches
CIF Sac-Joaquin Section Bylaw 600 restricts a student's participation on non-school teams within the same sport during the high school season. The varsity head coach determines the team policy on simultaneous team participation when exceptions are permitted.
The in-season use of non-school coaches and/or trainers is permitted. In order to safeguard student health and team integrity, parents and students who employ such services are expected to make every effort to insure that these activities serve to compliment and not distract from team activities. Failure to do so may result in the student's removal from the team.
Cuts and Tryouts
Golf, tennis, volleyball, water polo, basketball, diving, lacrosse, softball, and soccer, hold tryouts and make cuts. Cross Country, Swimming and Track normally do not cut, unless the team size is too large and/or the fitness and/or skill level of the student-athlete is not within a safe range. All student athletes are required to fully participate in both practices and meets/games as outlined by each coach. Students going from one season to the next will be able to finish out their current sport and then get a tryout for the next sport once their season is finished. (I.e. SF Volleyball to SF Basketball). When tryouts occur, all students are subject to being cut. However, the head coach will first consult with the Athletic Director prior to cutting a senior.
School Holidays and Practices and Games
Practices and games may be held during school holidays and breaks. Coaches will go over the requirements for practices and games during these times. If a student is planning to play a sport they should anticipate this as they decide to go out for a team.
Important NCAA Rules
NCAA Eligibility Center: All high school students who plan to participate in college at a Division I or Division II school must be certified by the NCAA Eligibility Center at www.ncaaeligibilitycenter.org. Students should check in with the Guidance office during their junior year to get the necessary information and deadlines.
Student Insurance
St. Francis High School participates in the student insurance program of the Diocese of Sacramento. If the student gets hurt during school activities, the school provides insurance to help with the cost of medical treatment not covered by other insurance personal insurance. This "school-time accident" insurance is designed to cover some, but not all, of the possible costs. All injuries suffered by an athlete must be reported immediately to the coach. This is the responsibility of the athlete. An injury report form must be filled out and signed by a parent. Accident claim forms are available at St. Francis.
Directions to Schools
Maps to all schools within the Sac-Joaquin Section can be found at www.cifsjs.org under maps on the left hand side of the home page.